How does a bird that once numbered in the billions disappear over the course of a few decades? The birds were shot and trapped. Beds and pillows were stuffed with their feathers. Their fat was used in shortening and soap. When huge flocks of the pigeons passed overhead, people would open fire on the poor creatures from their rooftops.
On Sept. 1, 1914, Martha (named for George Washington's wife), the last captive passenger pigeon, died at the Cincinnati Zoo. She outlasted George, the penultimate survivor of her species and her only companion, by four years. Don't the women always outlast the men…
Plans are in the works to possibly bring the bird back by way of "de-extinction." Ok, de-extinction…here's our layman breakdown:
So the DNA of a passenger pigeon and the fragments of an existing band-tailed pigeon meet at a bar. They get together. Insert what results into a band-tailed pigeon stem cell. It becomes a germ cell. Inject these germs cells into developing band-tailed pigeons, and voila! They start mating with each other, and eventually their offspring become more and more passenger pigeon-esque.
Want a more scientific explanation of the process? Check out this article from The Washington Post.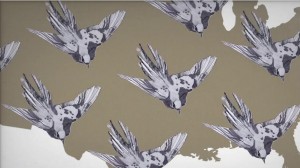 Oh, and check out this awesome song about Martha from the upcoming production of The Great Immensity!