In 2009 Yale and George Mason universities teamed up to do a study called "Global Warming's Six Americas: An Audience Segmentation Analysis, which groups Americans into 6 groups, based on their views on climate change:  Alarmed, Concerned, Cautious, Disengaged, Doubtful, and Dismissive. (I would also include Dopey, Bashful, and Grumpy, but maybe they wanted to limit things to an easy half-dozen.)  They did an updated version, "Knowledge of Climate Change Across Global Warming's Six Americas," which talks about where people get their information and which groups trust which sources.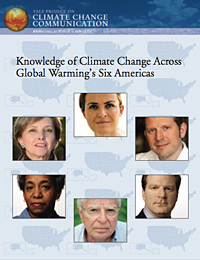 A Columbia blog checked out the study and says:
It is clear that the same message, no matter how scientifically accurate, will not reach all of "the six Americas."  A messenger must also possess the same values and beliefs as the audience being addressed.
Wonder what the results would be if they did this study in Canada? I'm guessing Freaked, Frustrated, Embarrassed, Polite, Pessimistic, and Hockey.