Hi,
One of my shipspotting buddies saw this article in the New York Times about how warmer ocean temperatures are shrinking the Arctic "ice pack."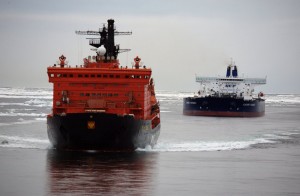 Means shippers are opening more new sea lanes and more routes near shore will be accessible more often during the year:
[C]ompanies in Russia and other countries around the Arctic Ocean are mining that dark cloud's silver lining by finding new opportunities for commerce and trade.
Not gonna lie, when I heard about this it made my mouth water, and I started polishing my binoculars.  But guess who's the most excited about this news?  Yup: oil and mining companies.  Even Pootie-Poot, aka Vladimir Putin, thinks it's a great idea for cutting costs. 
Alaska's lieutenant governor, Mead Treadwell, was among those who attended the Russian conference. He noted that about $1 billion worth of goods passed through the Bering Strait last year. "The ships," he said, "are coming."
Can't put anything past that guy.