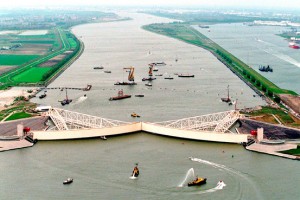 The Long Now Foundation are people after my own heart.  They want to be a counterpoint to today's culture of acceleration, help make long-term thinking more common, and help humanity think ahead 10,000 years into the future.  Hard to comprehend, no?  Yet fantastic.
They're trying to build a 10,000-year clock.  And they are creating a gigantic database of languages they're calling The Rosetta Stone.  On their website you can challenge others to bets about the future.  They have many cool projects and ideas.  Very theoretical but also rooted in pragmatism. 
They posted an item I find remarkable, especially because of how much planning and preparation must happen in the future, due to accelerated storms caused by global warming.  It talks about the final Deltawerken ("Deltaworks") project completed by the Dutch government in 1997, the Maeslant Barrier (pictured above).   It's one of the largest man-made moving structures in the world, opens and closes over one of the world's busiest ports, and is strong enough to withstand a once in 10,000 years storm event.  It cost nearly $1 billion.  They write:
It seems unthinkable that a country could have this much resolve for such a rare event.  In fact the barrier has already been closed multiple times and prevented minor flooding, so it is already paying itself off.

In the wake of Hurricane Katrina (considered a once-every-100-years event) which killed over 1,800 people and cost more than $81 billion, it seems unlikely the US will build infrastructure like this to protect the Southeastern seaboard.  I am not sure how much more adversity the residents of the gulf coast need however, they have had a tough decade.  It could be that the culture in the US looks more to dealing with problems of the future with insurance rather than prevention.  But if I lived in New Orleans, I think I would much rather have better levees and barriers, than a new insurance policy.
I've always thought the Dutch are cooler than Americans.  Alas, the Americans' music is still superior.  But 10,000 years from now, who knows if that will be the case — want to bet on it?  hehehe.
Do you think the US will ever spend this kind of money on this kind of project?