There's a wonderful blog post right now on NPR by Robert Krulwich, one-half of the amazing team that produces Radiolab (a show that makes science not just accessible but downright captivating).  It talks about sculptors and weavers who're drawing attention to the beauty and fragility of coral reefs.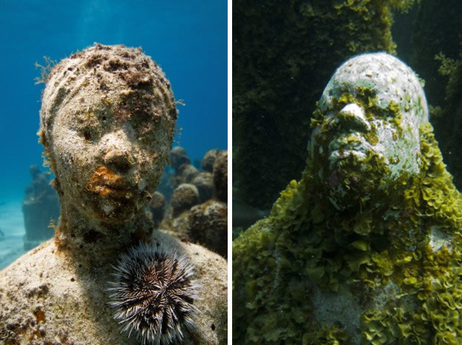 This is one of many sculptures by Jason de Caires Taylor, who designs underwater "parks" to relieve tourism from the world's endangered coral reefs.  His sculptures are made out of pH-neutral cement that's designed to host undersea life.
Here's a crocheted coral reef by an artist pseudonymed "Dr. Axt," a member of The Institute for Figuring, which strives to create and appreciate the beauty in and of natural and mathematical forms.
Lots more photos and intriguing descriptions on the original blog post over at NPR.