People who surf and raft and mountain bike are maybe sort of adrenaline junkies? But a lot of outdoor sports enthusiasts get intense about environmental activism, too. It makes total sense to me to try and respect and care for the outdoor terrain you love the most.
Surfrider protects oceans and beaches.  Protect Our Winters (with the awesome acronym, POW) raises awareness about the effect of climate change on high-altitude regions like mountains.

The Access Fund keeps all kinds of outdoor climbing areas open and conserves climbing environments.  The International Mountain Biking Association creates and preserves trails, and encourages low-impact riding, volunteering, and thinking of new trail management solutions.  And American Whitewater advocates for the preservation and protection of rivers in the US.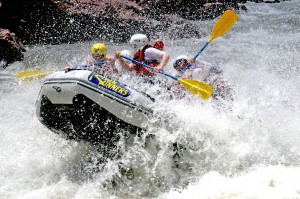 Chances are if you have a hobby or an activity you're really into, there's a way to get involved with an organization that can connect you to other people and do good for the environment.
So go hang ten and drink some X-treme beverages!   (That link really makes me laugh.)