So… who out there spent some amount of last month hunkered down in front of the TV watching really incredible men and women swim, bike, horseback ride, volley, and dive for coveted medals?  I know I did.  That's right, folks, I'm talking about the 2012 Olympics, and while most of you probably know it took place in London this year, many of you may not know the big reason why the city was chosen to host.  London made a radical proposal to host the world's first truly sustainable Olympic and Paralympic Games, and as we're heading into environmental crisis mode over CO2 emissions, it was the perfect bid to win them the gig.  Now I have always been a skeptic when it comes to these lofty declarations of green plans of action, but after checking out Kevin McCloud's video which explains how the plans were realized, I'm warming up to our friends across the pond, even though they  only gave Canada one gold medal this year and it was for bouncing on a trampoline…
The name of this plan for sustainability is Towards a One Planet 2012, and it was developed in association with WWF and BioRegional to show the world how it is possible to live within its means.  It's a set of green guidelines, if you will, to help demonstrate how essentially easy it would be to reduce our carbon footprint worldwide.  Together, these organizations focused on four areas of the Games that they believed would have the most impact on the participating community.  The first was, of course, the venues themselves.
The Olympic Park is the largest new urban parkland development in 150 years, and 60% of the materials used to build it were brought by rail or river, thus keeping its carbon footprint to a minimum.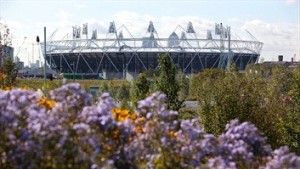 The second focal area of community sustainability was London's Active Travel Programme.  This basically consisted of a constant reminder from the Games to walk or bike around the Park whenever possible.  The site was structured to be easily accessible using such simple methods thus attempting to cut down traffic and of course, carbon emissions.
The third centers around food intake (and outtake) throughout the Games arenas.  The goal was to offer affordable, diverse food supplied by local food service companies thereby bolstering business in surrounding communities.  As far as waste goes, they declared they could achieve a zero-waste-to-landfill Games by offering hoards of various recycling bins that are different colors depending on the kind of waste they take (there are numbers on the bottom of all food/beverage-related products you can buy that designate the corresponding bin).  While it sounds fairly simple, a great deal is left up to the masses here – let's hope they're all environmentally conscious!
The final spoke of this plan has to do with people improving their local communities.  It's called the Changing Places Programme, and it involves inspiring individuals to get out there and make a difference in and around the places they call home.  You can see here how volunteers of the Games jumpstarted this outreach program in and around the Park itself.
Sounds like a pretty sizable endeavor, doesn't it?!  The reports on how close they came to reaching these goals aren't yet complete, but the updates look very promising.  I just wish I had seen more commercials about these initiatives and fewer from BP!