The comedian Martin Mull once coined the expression,"Writing about music is like dancing about architecture."  
I wonder what he'd say about this new dance piece by Donovan & Calderón, THE CLIMATE CHRONICLES, opening this week in New York City: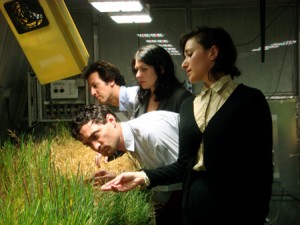 Abstract, funny, and bizarre, THE CLIMATE CHRONICLES is an ensemble-created performance that exposes four questionably qualified American climatologists as they swim through the world of climate change. Will they crumble under the pressure as their personal lives seep into their professional bubble?
Sean Donovan and Sebastián Calderón Bentin, the minds behind the piece, "appropriate the surreal and absurd elements of everyday life using them as raw material for new performance work, allowing them to challenge their own theatrical conventions while reflecting on social and political responsibilities as part of a global community."
They have collaborated previously on a piece in Panama City and at Galapagos Art Space and The Brooklyn Arts Exchange (BAX). 
I'm intrigued to see how their work develops over time… 
The show runs from November 10th-19th at Saint Marks Church on 2nd Avenue and 10th Street in Manhattan, a longtime home for avant-garde dance and poetry.