Happy (American) Thanksgiving, everybody.  Hope yours was as full of football and fine food as mine was.  I had a Hungry-Man Salisbury Steak TV dinner and spotted 3 ships, so mine was fantastic. (And I rinsed and recycled the tray.  So there!)
I nearly spit out my Sanka when I saw this ad in the New York Times the next day, a.k.a. Black Friday, the busiest shopping day of the year in the U.S.A., from Patagonia, the fancy eco-conscious clothing company that makes outdoor gear: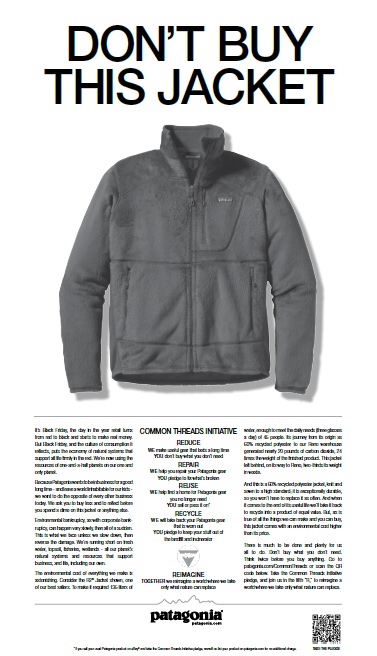 Pretty funny, huh?  Or pretty sassy.
They explain why on their company website:
The test of our sincerity (or our hypocrisy) will be if everything we sell is useful, multifunctional where possible, long lasting, beautiful but not in thrall to fashion. We're not yet entirely there. Not every product meets all these criteria. Our Common Threads Initiative will serve as a framework to advance us toward these goals.
Fair enough!
Back to my ship-spotting nook.