Much of artist Christopher Jordan's artwork deals with consumption, sustainability, and the environment. His series of photos from the Midway Atoll islands (in the Pacific Ocean, about 1000 miles north of Hawaii) took my breath away: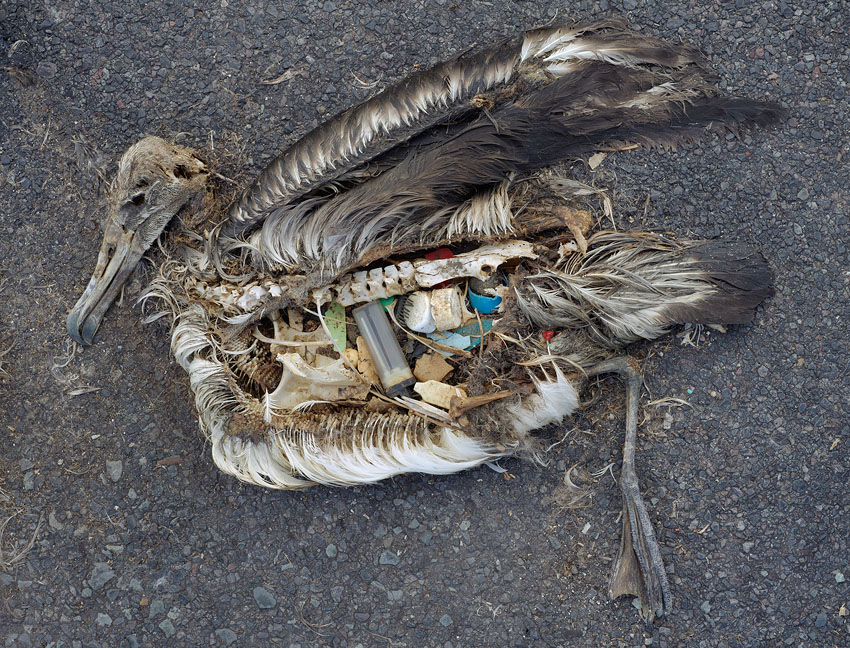 From "Midway: Message from the Gyre," Christopher Jordan (2009-current)
Maybe you've heard of the Great Pacific Garbage Patch, the giant "landfill" in the middle of the Pacific Ocean.  Well, the Midway Atoll is located near its apex and is a longtime wildlife refuge where albatrosses go to mate and feed their young.
This photo essay is like an environmental autopsy of the baby albatrosses that die after their parents try to forage the Pacific Ocean for food, and come back with only detritus to feed their young.   These haunting images won the prestigious French Prix Pictet  in March 2011.
Jordan and several collaborators are producing a documentary film about this phenomenon, too, called simply MIDWAY.  The filmmakers write:
The islands are literally covered with plastic garbage, illustrating on several levels the interconnectedness and interdependence of the systems on our finite planet [...]

And so it is here, sitting halfway between the consumers of North America and the consumers of Asia, that we get to stop and consider some of the unintentional consequences of growth, and the responsibilities that we have for our planet.