I'm partial to ships, but that doesn't mean I don't pay attention to other forms of transportation.  When I was a little one, I went nuts for just about anything that moved people from one place to another:  trucks, trains, cars, ships, and planes.  For some reason the thrill of spotting everything but ships faded.  I guess 'cause they're just so darn easy to see.  But I'd love to spot these things in the air: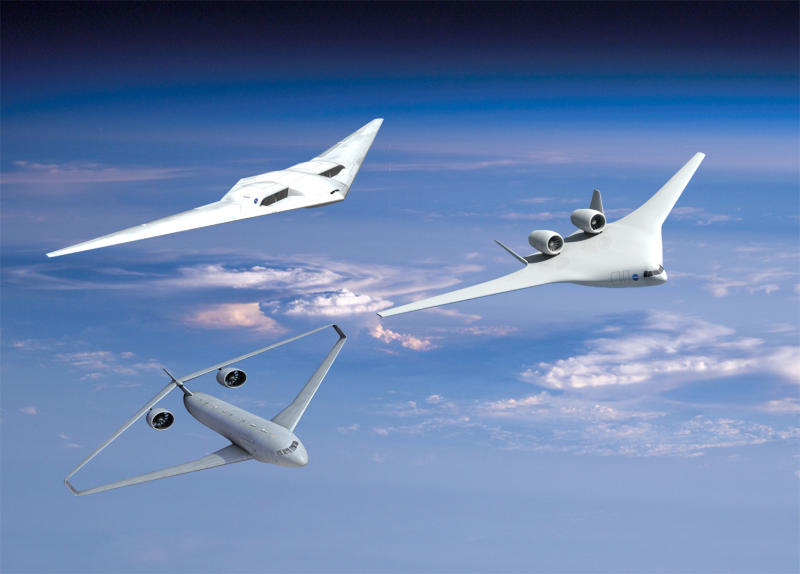 'The hell is this, you ask?  Why, let me explain:
Science Daily's reporting on how the good folks at NASA challenged three aeronautics firms — Boeing, Lockheed Martin, and Northrop Grumman — to come up with new designs that'll help the aircrafts of the future burn 50% less fuel than those that started flying in 1998 (the study's baseline), AND with 75% fewer harmful emissions, AND will shrink the areas affected by airport noise by 83%.  It's all part of NASA's .Environmentally Responsible Aviation Project.  (Who knew?  I guess you and me now.)  The three aircraft you see in the picture represent the three firms' various efforts to meet the criteria.
"The real challenge is we want to accomplish all these things simultaneously," "It's never been done before. We looked at some very difficult metrics and tried to push all those metrics down at the same time… We'll be digesting the three studies and we'll be looking into what to do next."

– Fay Collier, Project Manager
Dare I say this makes me feel rather excited?  It could just be a nice warm belly full of Swanson's beef pot pie and Sanka talking, but this seems like a really good, absolutely not bad, potentially wonderful thing.  I might just do a jig!
If you wanna read more about the different designs, the whole article is a great read.
Back to the binocs.