We've got a special "guest blogger" on The Great Immensity today, playwright Chantal  Bilodeau. Read about her epic and fascinating project The Arctic Cycle!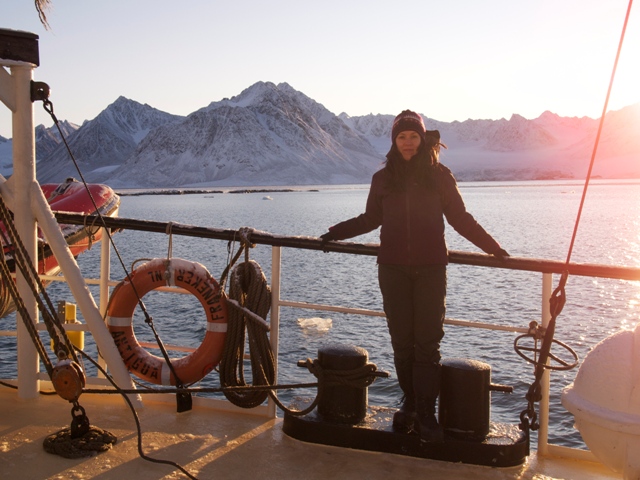 A few years ago, as I became acutely aware of the challenges posed by climate change, I asked myself "What can a playwright do to address this issue?" The most obvious answer was "write a play about it." But somehow, that answer lacked in scope. How could a single play capture the complexity of this global problem? How could one story illustrate the interconnectedness of all involved? A search for a less obvious, more multifaceted answer eventually yielded "write eight plays about the impact of climate change on the eight countries of the Arctic: U.S., Canada, Greenland, Iceland, Norway, Sweden, Finland and Russia." And so The Arctic Cycle was born.
I started research for SILA, the first play of the Cycle, in 2009 with a commission from Mo`olelo Performing Arts Company. Set on Baffin Island in the territory of Nunavut, SILA looks at the web of interests bearing down on the Canadian Arctic and local Inuit population. Equal parts Inuit mythology and contemporary Arctic policy, the play uses puppetry, spoken word poetry and three different languages (English, French and Inuktitut). SILA will receive its world premiere at Underground Railway Theatre in Cambridge MA April 24-May 25, 2014.
FORWARD, the second play of the Cycle, was inspired by a 10-day sailing expedition with the Arctic Circle program in 2011. Set in Norway, FORWARD presents a poetic history of climate change and examines how a spirit of innovation propelled Norwegians through three major events of the 20th century: the conquest of the North, the discovery of oil and adaptation to climate change. FORWARD is being developed in collaboration with Hålogaland Teater in Tromsø , Norway.
The remaining six plays will be written over the next decade and chronicle our evolving relationship with climate change. In addition, operating on the principle that complex problems must be addressed through collaborative efforts, each play will engage artists across disciplines as well as geographic and cultural borders; solicit input from earth and social scientists; and actively seek community and educational partners to foster public conversations and provide strategies for action.
– Chantal Bilodeau