Not a trace  /  Of doubt in my mind!
Okay – this post isn't about The Monkees… it's not even about monkeys. But I'm happy to say that more people are believing in climate change these days, and they are also more sure of their beliefs. A study done in conjunction by Yale and George Mason's Centers for Climate Change Communication has shown that general belief in and understanding of global warming has increased from 57 percent in January of 2010 to 70 percent in September of 2012, and the number of people who do not believe that global warming is happening has decreased in recent years by nearly half. For the first time since 2008, over half of Americans say that they believe that global warming is the result of human activity.  There's lots of interesting data in this thing about people's trust in scientists and scientific information, and about people's growing concern about the threat that climate change poses to us now and in the future.
These changes in attitude about global warming may stem in part from people's belief that weather in the United States has been getting worse. Over the past two years a record number of extreme weather events have occurred such as heat waves, widespread droughts, floods, wildfires and violent storms. There will be more work done to examine the public perception of the issues, and there's still a lot more progress to be made, but I can tell you, I'm a believer and there's not a trace of doubt in my mind!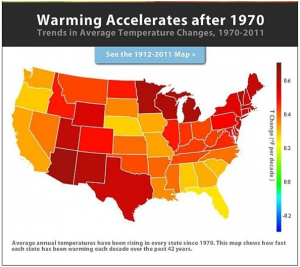 To read the Washington Post article that this map is related to click here.