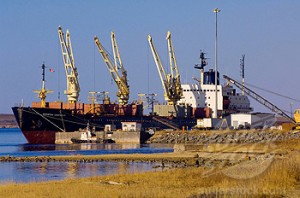 In Churchill, I see a lot of change going on.  Climate change changes the economy, and vice versa.  The world is getting hotter, even up here, it's plenty cold but the difference is real.
I watch all the loading and unloading of ships, and I think about all the ports south of us, the ones that never see the change like we see it up here, though they will eventually.  It's like if it's not in their face, they won't ever deal with the reality until it's way too late.  So I always like to hear about somebody thinking ahead, and thinking big. 
There's a guy name of Auden Schendler I heard about.  He started out as a nature, environment guy and now he works for a ski company doing sustainability stuff.  Now, I never been skiing, and I don't plan on going. I have enough snow in my life.  I can't understand why there are places like ski resorts where they actually manufacture snow.  Maybe I should appreciate it while it's still around.
He's in Aspen, Colorado down in the States and he's trying to make the ski place better for the environment through retrofits, renewable energy, making things more efficient.  He says you either go big or go home, 'cause doing little things to be greener are great but, only big things really matter, and it's up to businesses and lawmakers to do what's really important.  Wrote a book called GETTING GREEN DONE.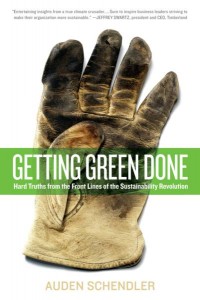 He says companies gotta stop pretending they're doing a great job if they're blowing it with carbon emissions, also known as greenhouse gases. For instance, he says WalMart spent half a billion dollars a year on "green programs" in '09, and carbon emissions still went up 8.6%.  You can imagine how much that is, a huge company like that.  Or can you even? 
His other thing is, business people need to factor the real cost of things into their price. Like, you can burn a pound of coal to make a dishwasher run for one cycle, and that power right now costs about eight cents.  But that doesn't count the cost of the pollution from burning the coal, or the global warming impact on the economy, or the cost of the increased mercury in his son's body from burning the coal. Or, say an American burns a gallon of gas to go to the market.  Right now they're not paying for the cost of our military expenses in the gulf, or for the climate impacts of that gas on the GDP. 
Anyway, I like this guy, he tells it like it is.  Makes you think about how things are connected.  He's kinda all or nothing, but still he's pretty decent. 
One thing never changes, up here though:  watch out for bears.