The more I see as a human being, the bigger I want my films to be.  I yearn to make people understand themselves and the world in new ways.  I feel a kinship with the makers of JOURNEY OF THE UNIVERSE.  It blew my mind when I saw it.  (It's showing on PBS this fall.)  I have no idea if I could ever make a film like this on my own, but it's the kind of film I wish I'd made myself.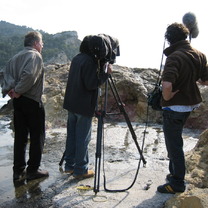 Brian Thomas Swimme is the subject, co-writer, and "host" of the film.  He's an author and evolutionary philosopher.  He's profoundly curious, thoughtful and engaging about life's biggest questions, how we got to where we are and where we're going.  The film is profound — sort of like WHAT THE BLEEP DO WE KNOW?  but a little bit more philosophical and professorial.
This film is big.  Huge, really, is the word.  Swimme (who co-wrote the film with other scientists and several Yale divinity professors ) connects big-picture issues in surprising ways.  There's an accompanying book, which is equally worth reading.
The film takes place on the Greek island of Samos, the birthplace of ancient mathematician Pythagoras.  Swimme talks about cosmic evolution as a process based on immense creativity, connection, and interdependence. He connects the birth of the cosmos to discoveries about the human genome, to our impact on Earth in this period of ever-greater environmental and social crisis.
This film invites us to examine how we are woven into the web of life. It is designed to inspire a new and closer relationship with Earth
And it's beautifully shot.
The bar is very high.