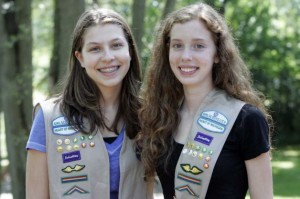 When Rhiannon Tomtishen (left) and Madison "Madi" Vorva (right) became Girl Scouts, they learned that part of Girl Scout Law is doing your best to make the world a better place.  They took it seriously.  So seriously they've been engaged in a four-year campaign to get Girl Scouts' famous cookies to stop using palm oil as an ingredient.
Rhiannon and Madi found out about the palm oil in Girl Scout cookies after studying orangutans as part of a project to earn their Girl Scout Bronze Award.  They found out palm oil plantations are built by destroying rainforests where orangutans live. So they started a crusade to and partnered with Change.org and Rainforest Action Network to spread the word.
Girl Scouts of the USA really messed up at first.  They wouldn't reply and even erased comments about palm oil from their Facebook page, so then of course all these news organizations found out and did articles about the censorship.
But Rhiannon's and Madi's hard work finally paid off this spring, when Rhiannon and Madison met with leaders at Girl Scouts HQ in May of 2011 – and Girl Scouts vowed to look into more responsible sourcing for its palm oil.  (Girl Scouts also got a new CEO.  Coincidence?  I think not…)
Tons of companies use palm oil. 1 out of every 10 products in a supermarket contain it. It's a huge problem. You can sign Rhiannon's and Madi's petition or ask another company to do the right thing and stop using palm oil.  I did.  These girls are so awesome.  I feel like we're friends.